We created this page to help make it easier for you to travel with us to many of our shows in beautiful and unique vacation destinations where we perform. Check back often for updates and additions!!!
Each year we travel to St. Croix, USVI in the winter. It's a beautiful place to be that time of year! The weather is perfect, the water is about 80 degrees, and you've never seen a more beautiful sunset! Our 2023 schedule is listed below. 
Travel Tips: The flights are least expensive if you book early! July/August are usually good months to get flight deals. (Airport code is STX) We recommend American Airlines and Delta for the best flights to the island. If you watch them throughout the year you can usually get a good deal by booking in advance. Jet Blue and Spirit also have some good flights! Be sure to check all airports in your area for departures....sometimes if you drive a little further to an airport, it can save you big $$ on the flight!

We like SkyScanner to stay updated on the best flight prices.  SkyScanner will also allow you to set travel alerts so you can stay automatically updated on the best flights!

CLICK HERE for some great travel info for St. Croix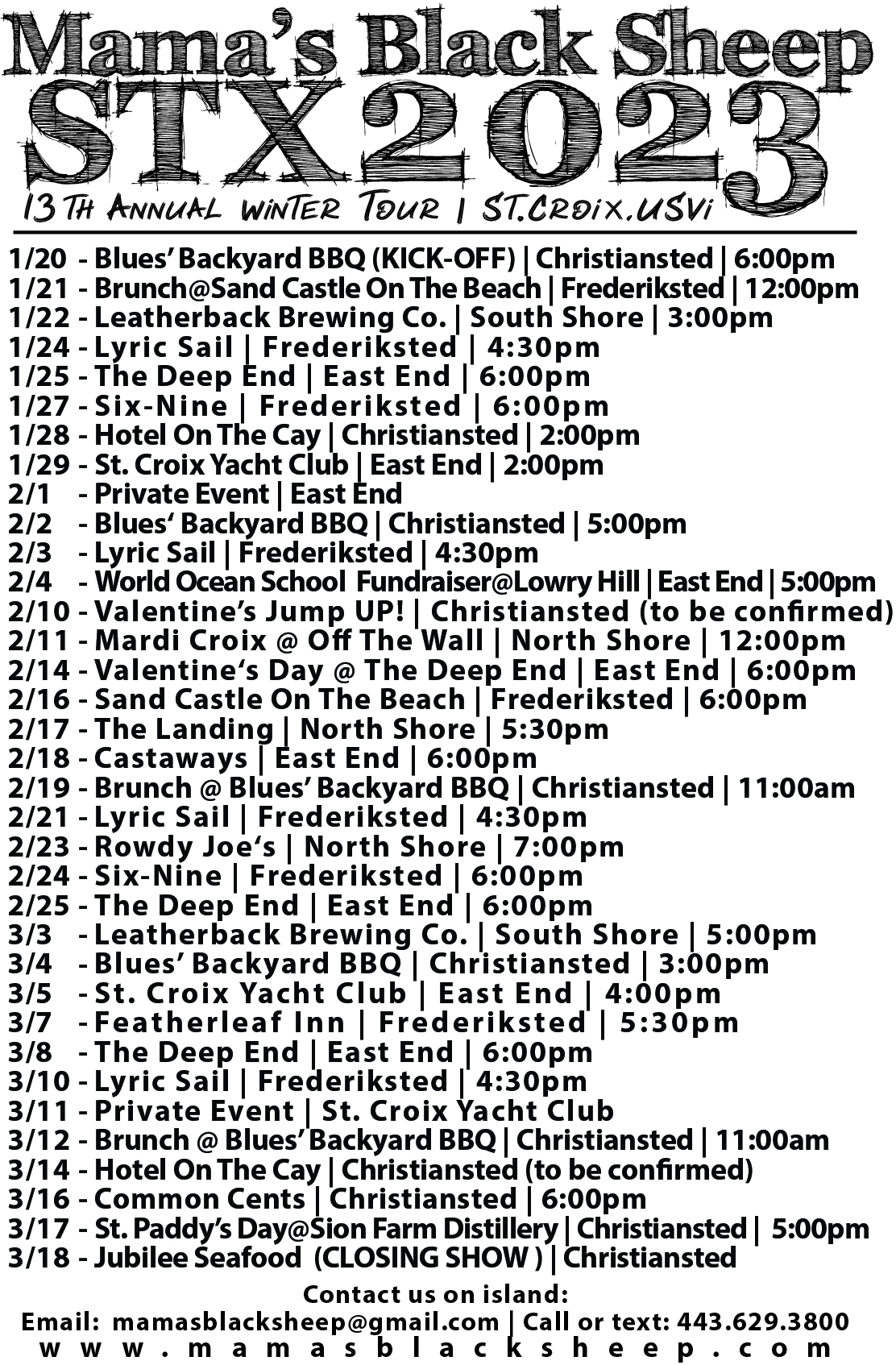 There are few east coast beaches more beautiful than the beaches of OBX!!
For 2022, we currently only have one public show planned in OBX. Catch us Thursday August 18th at the Duck Town Green from 6:30-8pm. 
CLICK HERE for some general vacation info about The Outer Banks of NC!
FLORIDA - ATLANTIC COAST & GULF COAST
Florida! Since COVID began, we've not made it back down, but we are working on coming back to see you in 2023. 
A beautiful vacation spot, Rehoboth Beach is the ONLY town that we play every single month all year long (except Feb. cause we're busy in de islands!). The Pond is our "home away from home!" The Pond has moved to a beautiful new location on Rt. 1 with lots of space, great new food & drink menus, and ample FREE PARKING! Below is a peek at our 2023 schedule at The Pond. Most shows are 5-8 or 7-10, but see the Pond's calendar for exact showtimes.
Friday January 13th
Saturday January 14th
Friday March 31st
Friday April 28th
Saturday April 29th
Friday June 23rd
Saturday June 24th
Friday July 28th
Saturday July 29th
Friday August 25th
Saturday August 26th
Friday September 29th
Friday October 20th
Friday November 17th
Friday Dec 15th
CLICK HERE for some general vacation info about Rehoboth Beach.
If you need a place to stay at the beach, your options are plentiful.
CLICK HERE for a hotel
CLICK HERE for a vacation rental property